Try this on for size.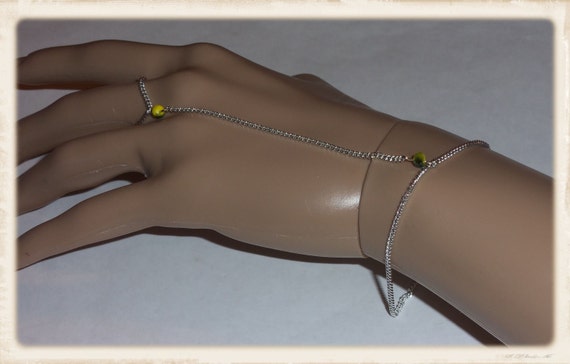 Spring is on its way. Show of that cute yellow or green dress by wearing this lovely yellow and green finger bracelet
This dainty elegant blue sterling silver finger bracelet will look good on your hand. It makes a lovely gift for someone you love, including yourself. It's made with 4mm blue Swarovski crystals and a sterling silver chain. The bracelet chain moves around freely to allow you more flexibility.
This particular finger bracelet shown in the pictures has the following measurements. All middle finger (third finger) will be 3 inches, unless specified.
Middle Finger (Around the third finger): 3 inches
Middle (From middle finger to wrist): 3 inches
Wrist: 7 inches
Get one made for you at Designs By Cherrae.